Industry leading tech to better manage your mobile device repair shop
High converting Google Ads-approved websites with end to end quote, appointment, inventory management software, and more. Gain control of your online presence, drive more traffic, and serve your customers better.
By entering your email, you are agreeing to our terms of service  and privacy policy.
Proudly Canadian
The repair industry revolutionized.
An all-in-one solution for managing quotes, appointments, ecommerce, and marketing has been missing from the repair industry, until now. Device Commerce is built by shop owners for shop owners.
99.9% Uptime
Outperform your competition with a reliable, lightning-fast site.
Dedicated Support
24/7 access to a dedicated support team across Canada.
Sell More, Faster
Intelligent tools that help you sell more and scale your business.
Trusted Partners
Gain access to an expansive network of trusted partners.
A more efficient system to manage your shop
Our intelligent tools and services make it easy to grow your business to new heights. Capture more quote requests and manage appointments effectively. Drive online sales for new, used, and refurbished devices in your province. Overtake the competition on Google, Facebook, and Instagram. See our tools in action below.
Receive more quotes & appointments within seconds
Get more customers online & overtake your local competition
Scale up confidently with a full business management suite
Get access to our expansive network of trusted partners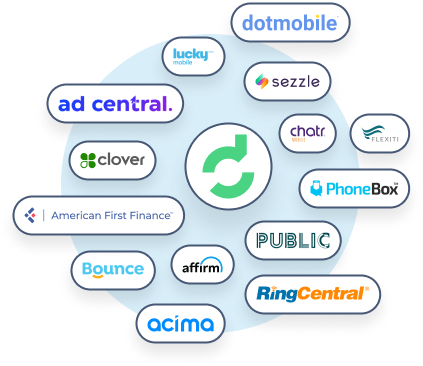 Bounce Insurance
Exclusive Access
Discounted Rates
Get your customers unbeatable protection rates and increase sales by appearing on Bounce's preferred repair location finder.
AdCentral
Exclusive Access
Free Forever
Get unlimited free access to AdCentral's curated, plug and play, smart TV advertisements forever.
Clover Payments
Clover builds smart, customized point of sale systems to make running your business easier.
RingCentral
RingCentral is a complete communications solution empowering your business globally to communicate and collaborate.
Deputy
Deputy is a workforce management app that allows you to track and plan your employee schedules.
We are committed to partnering with the best and brightest businesses to help you future-proof your business and level-up.
Offer in-store and online financing
Flexiti
Flexiti helps consumer by providing financing, with higher approval rates and superior customer service.
America First Finanace
Offer a flexible payment solution for customers online, in store, and via text that allow them to buy now and pay later.
Sezzle
Sezzle empowers shoppers to purchase today, and make 4 interest-free payments over 6 weeks! Increase your conversions, AOV and customer satisfaction.
Affirm
Affirm's programs remove price as a barrier, turning browsers into buyers, increasing average order value, and expanding your customer base.
Acima
Acima makes it possible for merchants to offer their customers a No Credit Needed purchase option at the point of sale.
We are committed to partnering with the best and brightest businesses to help you future-proof your business and level-up.
Tap into our carrier network
DOT Mobile
Public Mobile
Lucky Mobile
PhoneBox
Chatr Mobile